This article contains the following information:
--------------------------------------------------
The Study Path Details Report allows you to see all key score (initial & current) and time details for your students for a specific study path. It is similar to the Student Data Summary Report (Advanced Report), but allows you to see many of these details in easy proximity to the Group Summary Report
Accessing the Study Path Details Report
To access this report:
Click the Manage Account button from your EdReady Dashboard.
On the Groups tab, click the Reports button ()
Select your report-level filters: you must select the subject (Math or English)
Optional: if your institution is using categories to organize your students and staff, you will see those listed: you can choose to filter the included students by the selected values. Select each category value you want to include in the dropdown menu.
Click the Run Report button and the report will be displayed on-screen
Click the Study Path Name column header to be taken to the Study Path Details Report for that study path.
Detailed instructions (with screenshots) can be found here: Accessing Group (ISD) Reports
Note: you can change the subject and included values can be removed by clicking the 'x' in the value's box. Be sure to click the Run Report button to apply any report-level filters.
Study Path Details Table
The on-screen report displays will list all students as rows, with information about their progress and activity for this study path displayed in their row.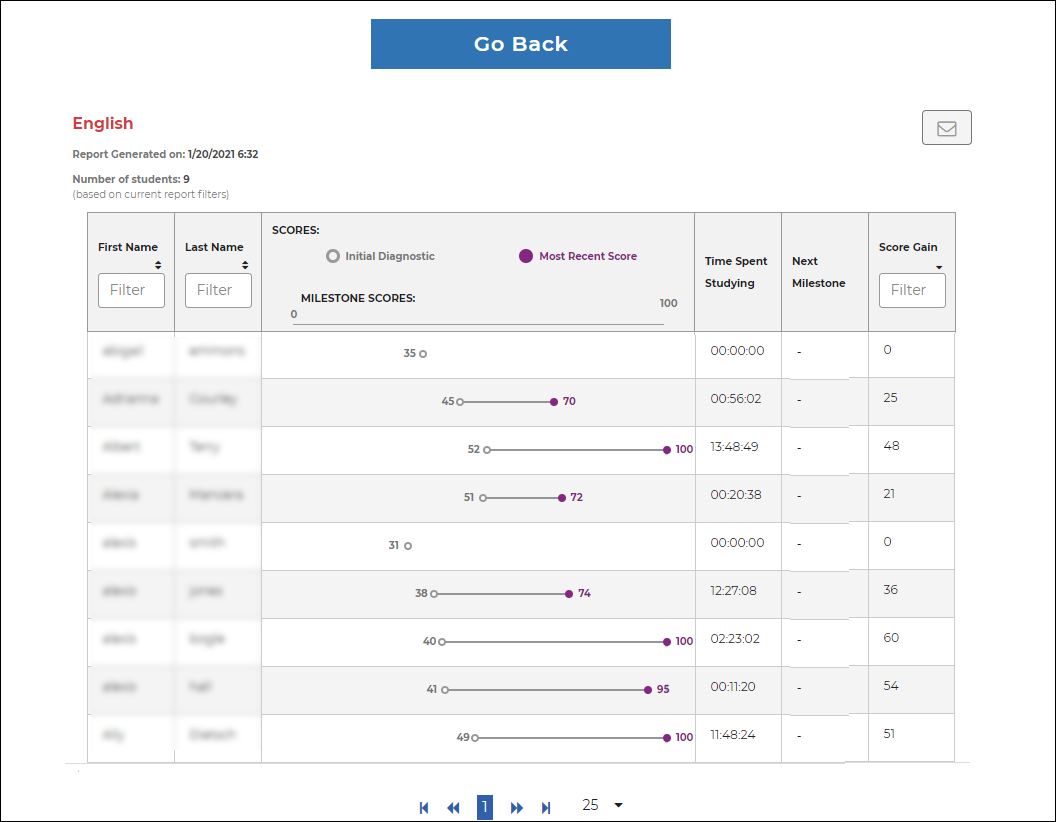 The information you may see displayed:
Student Name
Scores: Initial Diagnostic (for Tier Tests, this is the Test score), and Most Recent Score (their current study path score)
Time Spent Studying: amount of time (in hours:minutes:seconds) the student has spent in the Learn resources in this study path
Score Gain: the difference between the Initial Diagnostic score and Most Recent Score
You can also click the email button (

) above the top-right corner of the table to have a copy of this report's details sent to you in a .csv file. 
Clicking the Go Back button (under the report0level filters) will take you back to the Group Summary Report