This article contains the following information:
---
Important URL Details
EdReady for Texas College Bridge uses custom registration links to allow students to self-register for the program. Any student who has one of your links will be able to register: student rosters are no longer used and no pre-provisioning of student information is needed. 
Teachers should contact their local ISD or school administrator for these URLs. They are not available in a teacher's TCB admin interface.
As an ISD kicks off use of Texas College Bridge, the primary coordinator(s) will be sent your district's registration links via email. This message will have a subject of: "Getting Started with Texas College Bridge: What You Need to Know." (schools who received details on 8/4/23 should look for a message with this subject: Texas College Bridge: Preparing for the 2023–24 Academic Year
Anyone with an ISD Administrator or School Administrator account can also access the district URLs via the EdReady interface using the instructions below. You need to provide these URLs to the teachers in your district.
New for 2023-24: In addition to students being given a math, English, or both math and English URL, all students should be given the College and Career Support goal. 
Find your District-Specific URLs
1. Login to EdReady
2. Click the Manage Account button from your EdReady dashboard to access the administrative pages in EdReady.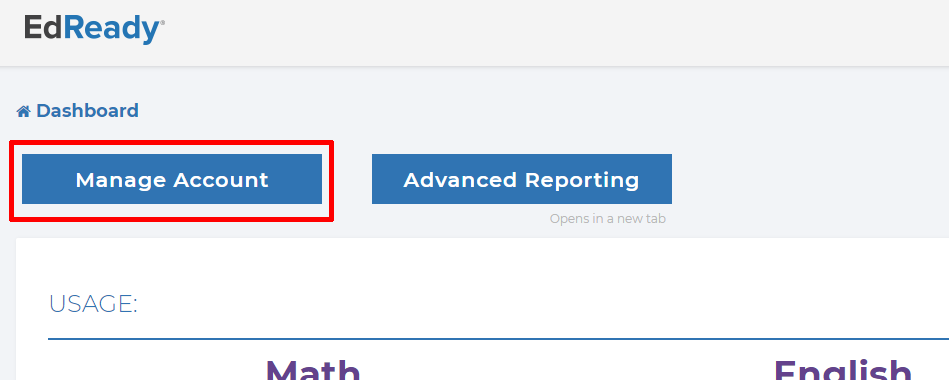 3. You will land on the Groups tab: click the Edit icon (
) for your ISD

4. Click on the Goals tab: you will see the math, English, and College and Career Support goals for your district listed. If your district has participated in more than one year of Texas College Bridge, you may see more than one goal for each subject.
IMPORTANT: you will see goal keys listed in the table here: you should not share these keys with your students. All goals are assigned to students automatically and students do not/ can not enter goal keys for Texas College Bridge.
5. Select the goal(s) a student will need to register for using the checkboxes in the first column, then click the Generate Registration URL button.
The URL that is generated will be used to enroll the student into all selected goals: each student should only be provided links for: math & College and Career Support only, English and College & Career Support only, or math, English, & College and Career Support.
*Note: all students must be given the College and Career Support goal. Please be sure to check this goal along with the other(s) goal URLs you are generating. 

You will see the URL in a pop-up window and can select it from there. Click the Close button to close this window.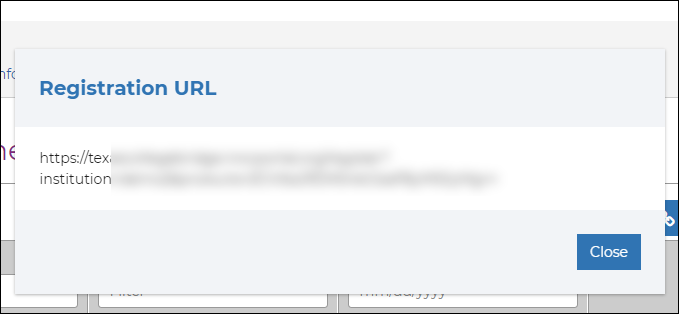 You can also use the new on-screen buttons to get and share your generated URL:

Show URL (): click to see the URL on-screen again
Send email invitation (): click this button: in the pop-up window, enter the email addresses for the Student Recipients that should receive an invitation to register with the provided URL. 
NOTE: you must click return/enter after each email address: you will know that it has been entered correctly when you see the email address inside a gray box with a small 'x' in the top-right corner.
Click the Send email button to have the message sent to the listed addresses.

Copy to clipboard (): copies the current URL to your computer's clipboard, allowing you to easily paste it into a email, file, etc for sharing.