This article contains the following information:
--------------------------------------------------
Accessing the on-screen reports
Details on accessing this report can be found here: Access Detailed Student Reports
Once in the Detailed student reports, click on the Resources Studied tab.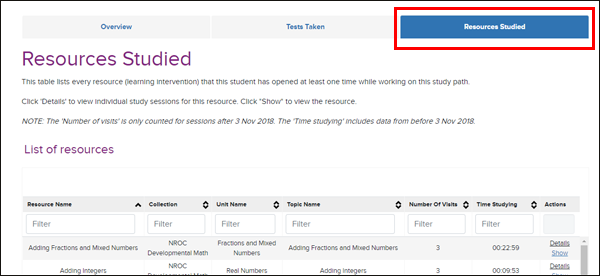 Report Overview
The Resources Studied data table lists every resource (learning intervention) that the student has opened at least one time while working in the current study path. Related information shown includes:
The name of the unit containing the resource
The name of the topic containing the resource
The name of the study resource
The number of times the student accessed the resource
The total amount of time spent viewing the resource
View the Learning Resource
Click the Show link for any listed item to see that study resource
See Detailed Visit Details
Click the Details link to see a list of each visit to that study resource, displayed at the bottom of the page. Each row will indicate when the resource was visited, as well as the duration of the visit.